One of the more significant parts of marketing is brand identity, which differentiates one brand from another. Some of the world's most well-known businesses, such as Coca-Cola (typography and bottle shape), Lego (youthful and imaginative brand personality), Nike (winning brand personality), and others, have relied heavily on brand identities to achieve success.
Learning about brand identity and developing a strong brand identity value is a certain approach to long-term success and consumer loyalty. Despite its relevance, brand identity is an often misunderstood phrase that few people know.
What Is A Brand Identity, And How Does It Work?
Other marketing concepts, such as brand or branding, are sometimes mistaken for brand identity.
A brand is how a customer perceives a company based on its encounters. Different techniques and approaches may be used by branding to impact how a client feels.
Branding is the process of assisting consumers in comparing one brand to another, determining what makes them different, and deciding to be loyal to one over the other.
A logo, color palette, website, communication style, tone of voice, brochures, commercials, and other visible, tangible elements of a business are examples of brand identity.
Why Is It So beneficial To Have A Unique Brand Identity?
Customers' perceptions of you are influenced by how you connect with them. One of the most important aspects of branding is the brand identity, which influences each client that comes into contact with the company. With so many brands and organizations flooding the market with comparable items, standing out and attracting a customer's attention is very difficult.
Customers may relate to businesses with similar values because of their brand identity. Your advertisement's themes and how your brand identity is presented attract those who share your beliefs and values.
Mcdonald's, for example, has a highly young and vibrant brand identity. It also gives off the impression of being cost-effective. Customers who wish to eat with a large group of friends or coworkers generally go to Mcdonald's. The majority of the clients were young people looking for a fast bite to eat.
What Is The Best Way To make A Brand Identity For Your Startup?
With so much emphasis on the brand, it's essential to understand the many methods for creating a brand identity for your firm from the ground up. The following are some of the tactics you may use to build a distinct brand identity that sets your company apart from the competition:
1. Define your unique selling proposition (USP).
A unique selling point is a product or service that distinguishes your company from other businesses in the same sector. Customers would have no incentive to prefer your brand over another if you didn't have a USP.
2. Create personas for your customers
Customer personas define customers based on demographics, psychographics, and shopper behavior (how often they shop, what items they purchase when they buy, and so on). All of this information is utilized to develop a target audience that looks like a genuine person—this aids in developing marketing messages and tactics that better connect with consumers.
Assaf Cohen, the CEO of game firm Solitaire Bliss, recommends talking to dozens of individuals when creating client profiles. "We spoke with 50 casual gaming players to learn more about who they were and why they played." We got a deeper understanding of our clients and what made them want to play our games."
3. Identify your target audience.
The persons or groups of prospective consumers for whom your brand's marketing messages are focused are target audiences. Study your target audience's likes and dislikes and how they feel and think by segmenting them into geographic, demographic, psychographic, and behavioral categories. You will be able to contact clients quicker if you have a well-defined target audience rather than making everyone your customer.
4. Create a distinct brand personality
The brand's personality comprises distinct features and attributes that make it recognized and appealing. It has an impact on how people perceive and engage with the brand.
The first step in creating a distinct brand identity is determining your company's key beliefs, objectives, and expertise. Create a distinctive voice to interact with your consumers based on these values and customer personas.
Apple's Think Different campaign is one of the most well-known branding initiatives. This effort was instrumental in restoring Apple's market value, which had fallen to 3% in 1997. Famous persons who were brave, inventive, and made a difference in the world were featured in legendary advertising for the campaigns. With these photos, Apple built a distinctive corporate identity and motivated people to be diverse and creative thinkers.
5. Create Branding Components
The aspects or features of a brand's identity that help distinguish one brand from another are branding elements. These pieces make up a brand's visual image across various communication channels, such as social media and email. Individual branding aspects have a role in developing an appealing brand identity. So choose the most likely characteristics to attract and connect with your target audience.
McDonald's is a brand with a lot of distinguishing characteristics. Ronald McDonald, the iconic clown with red hair and yellow attire, is a well-known McDonald's marketing piece. McDonald's has used the clown as their emblem, enticing children. The character's brand has become so ingrained that everyone can identify him.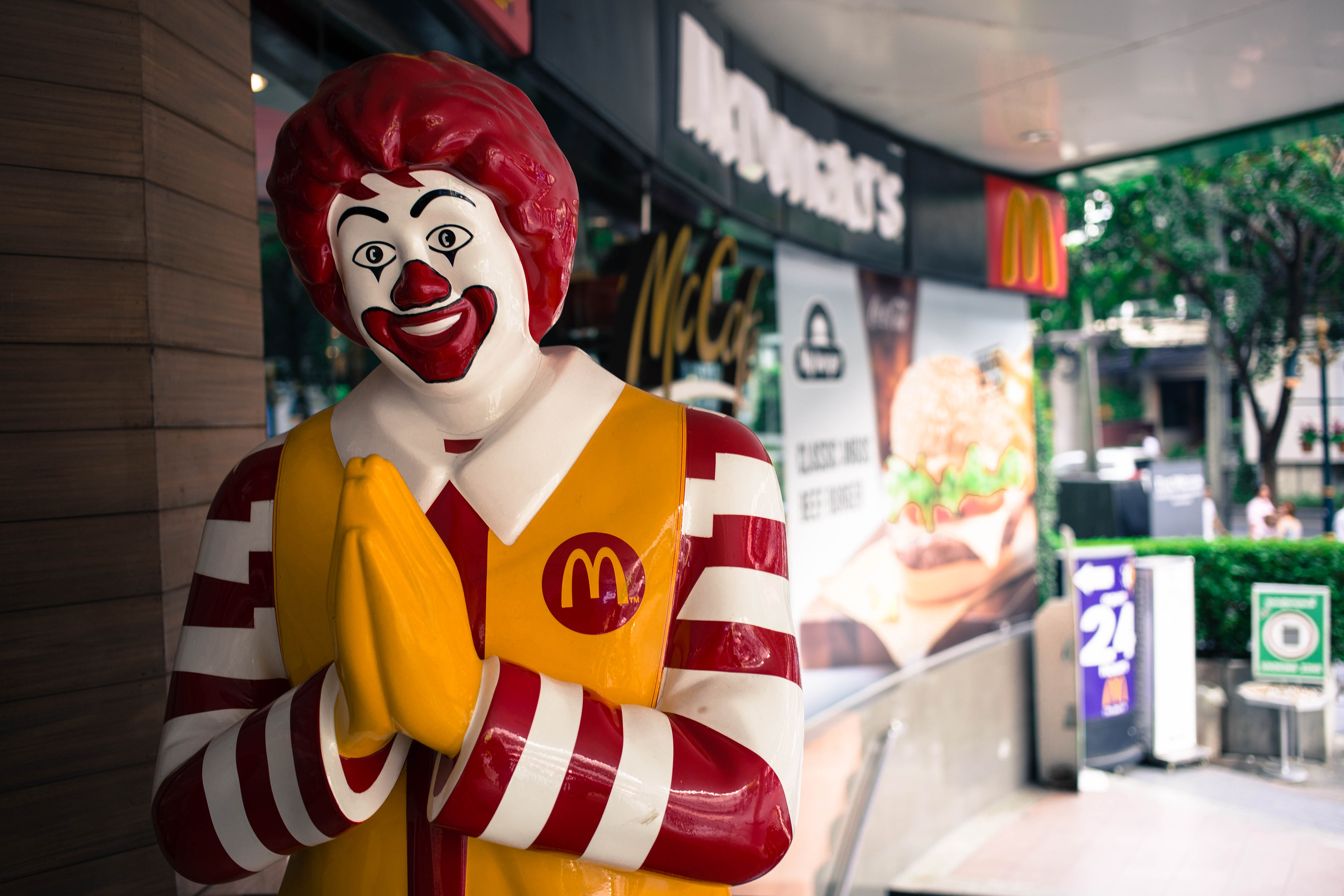 6. Increase the value of your brand
People come from various backgrounds, including various cultures, religions, locations, beliefs, values, and behaviors. Regardless of their differences, they draw toward individuals who share their ideas and mental processes.
In the same way, individuals gravitate toward companies that have similar beliefs. Core brand principles assist the brand in making well-informed choices. Make sure the brand value you create is relevant to your target demographic.
One of Nike's co-founders, Bill Bowerman, produced a mission statement that transformed the way people saw and connected the business. "You're an athlete if you have a body." Nike's remark had a significant impact on customer purchasing decisions. Previously, Nike was solely identified with professional athletes, limiting the target demographic. This remark expanded the number of prospective clients and helped Nike become a household brand.
7. Create a brand voice and tone of voice for your company.
How your brand engages and communicates with your customers is represented by the brand voice and tone of voice. It comprises the language you use in your content, your communication style, and the tone of voice in whatever contact the brand has with customers. Developing a brand voice and tone of voice establishes a predictable pattern for consumers.
Coca-Cola is one brand that has maintained a constant, welcoming tone over the years, with good messages for a happy life. This tone of speech contrasts with the Old Spice brand, which markets itself with a macho and funny humor-filled tone. Both of these voices are distinct and opposing. Regardless of the differences, both tones of voice are effective for their respective companies because they are relevant to their target audiences. Social media videos, which can help establish the tone and connect with your consumer, are one of the finest methods to communicate your brand's distinctive voice.
8. Create a logo, a brand identity, and a design
The most significant branding area is brand identity design, which generates brand identity features such as logos, mottos, color palettes, and websites to identify one business from another in the market.
Customers recall logos as one of the first things they remember about a company. Your logo should be created with your brand's value and target audience. Many logo-designing websites and graphic designers can assist you in swiftly creating a logo that is relevant to your company and appealing.
Here, logos aren't the only thing to consider. The brand's aesthetic is defined by typography. Hue palettes establish the tone of a company since each color and colour combination evokes a certain feeling, mood, and emotion. The use of imagery and photography helps establish the brand's mood and tone. Graphics and iconography are flexible tools that may be utilized on various platforms to improve the consumer experience.
Avoid These Mistakes When Creating Your Startup's Brand Identity
One area where a business might go wrong is developing a brand identity. Fortunately, avoiding some items to develop a stronger brand identity is not difficult. The following are some of the most typical errors made by startups. To prevent them, be sure to read the rest of the article attentively.
1. Marketing comes first, then branding.
Startups often want to start making sales as soon as possible and get into the marketing process before establishing a strong brand identification. Without a distinct brand identity, messages expressed over time and across various marketing channels may be inconsistent, resulting in brand equity loss.
2. Believing that a logo is sufficient
Uniform brand identity components are essential for a consistent brand identity across all platforms. The lack of a complete brand identity gives the brand an unorganized appearance.
A logo is one of the aspects of brand identification, but it is not the only one. Most firms develop their logo first and then go on to other design components like websites, social media platforms, packaging, etc. An incomplete brand identity is created by not creating all of the brand identity characteristics.
3. Creating Customer Confusion
Customers must be aware of the services and goods you provide. Customers may be confused about why they need to come to you if you have too many items and services under your brand. Customers may get confused if there are too many vertical and horizontal procedures since they are unsure how and where to contact you.
When your messaging, content, and tone of voice are inconsistent over time and across platforms, your brand identity may be confusing. Having distinct tonalities and brand personas on different platforms will confuse your consumers about who you are, what you do, and how valuable your company is.
Conclusion
Your company's brand identity is a crucial aspect that may make or damage it. Creating a consistent brand identity with the brand value and target audience is an effective method to stand out among the crowd.
The following are some strategies for developing a strong brand identity:
Define your company's unique selling proposition (USP), which sets it apart from other brands in the field.
Create a persona for your target people based on demographic, psychographic, geographic, and behavioral data.
Based on the data, define and segment the target audience.
Create a distinct brand identity with a distinct tone of voice.
Define your brand value regarding what your company stands for and how it connects with your target market.
Create a distinct brand tone of voice.
Design the whole brand identity package, including the logo, website, typography, graphics, and illustration.